Discover more from Mutual Aid NYC Newsletter
A newsletter about Mutual Aid efforts around New York City, brought to you by mutualaid.nyc, going out to Mutual Aid NYC volunteers.
Over 3,000 subscribers
Mutual Aid in Ocean Hill and Brownsville
A conversation with Kelvin Taitt, who co-founded the group while battling coronavirus symptoms.
Until the pandemic hit New York in March, Kelvin Taitt was a wedding MC and event planner living in Brownsville, Brooklyn. He was also involved in local neighborhood associations, serving food at homeless shelters and organizing community events. But then everything changed — Taitt came down with the coronavirus and, even as he was battling symptoms, he set about co-founding a mutual aid group for Ocean Hill and Brownsville, neighborhoods that lack representation in local government. We spoke to Kelvin about building an organization from scratch, creating jobs via mutual aid, and silver linings in bleak times. 
This is an edited excerpt of an oral history conducted by Robert Soden, an organizer of Morningside Mutual Aid in Manhattan.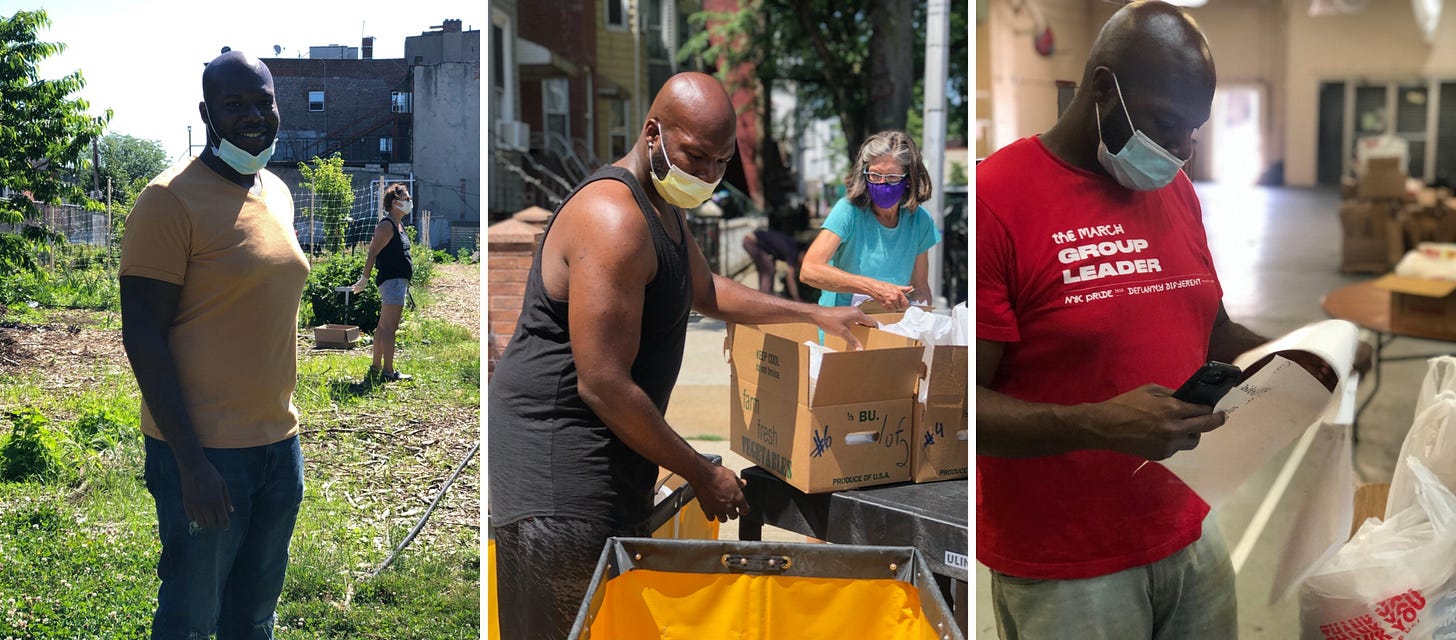 Photos by Sandrine Ettienne.
Robert Soden (RS): How did you get involved with mutual aid work? 
Kelvin Taitt (KT): I was approached by some of the neighbors from our neighborhood association about forming a mutual aid group to help those in need of food and groceries. So we got together and we started raising money. We started going to the grocery store, buying groceries for our neighbors delivering it to them, and just spreading the word through a Whatsapp group chat, and then started building an operation and infrastructure. That is what we have now: our residents and our neighbors can go online, request groceries through a form, and select what they want through our inventory. And then the groceries are delivered to them at the end of the week.
RS: So the mutual aid work that you're a part of really grew out of some existing community networks that were already doing things in the neighborhood?
KT: Yes and no. We have a neighborhood association. We're a very tight-knit group, and we communicate very often. One of our neighbors was contacted by someone that she met on a forum as she was searching for ways to help. I was actually sick at the time — recovering from COVID — when she reached out to me. A lot of the work that I was doing in setting up our efforts for mutual aid was from home, as we were just trying to figure out what this was — what are we going to do? How can we help our neighbors? You know, what is our part in all of this to support and be a resource to our community? And that seemed like the best way to do it, the best thing to do was groceries, and forming a mutual aid group.
We don't have a New York City Councilmember. So our resources are almost non-existent.
RS: Prior to COVID, what were some of the concerns in the neighborhood? What were the kinds of issues that the neighborhood association was working on?
KT: We were working with the homeless shelters in our area, because there are two of them in our community through the Camba network. We had some events planned to bring everyone outside of their homes and to celebrate and be around each other, which we had to cancel. We serve food for our neighbors in the area that are food-insecure, or neighbors that are in the homeless shelter. So we do that a couple of times a year from the neighborhood association.
RS: Who in the neighborhood is impacted the hardest by the pandemic?
KT: I think that everyone has had their fair share, honestly. I mean, our neighborhood is primarily black and brown. We don't have a New York City councilmember. So our resources are almost non-existent. We have no elected official to ask for help. There was only one person left in our councilmember's office after he left his position. There wasn't really much that the one remaining person could do without a superior.
RS: What's been the hardest part of the work so far?
KT: Getting food and money. My co founder and I — we split up the duties to where she focused on the infrastructure, and the back end, and the intake, and I focus on the frontlines in the warehouse and getting the food. Trying to get those resources while not being a 501c3 organization has been a challenge. We don't qualify for anything from the food banks or City Harvest or the city itself. So we receive whatever handouts we're able to get. We create relationships wherever we can find them to get low-cost produce. That really has been the challenge. We were able to connect with some local food pantries, and they were allowing us to fill up our cars and our SUVs with whatever we could, to feed our neighbors. 
Some of our neighbors that are still extremely affected by COVID rely on us every week to be able to feed their families.
RS: How has the work changed since March?
KT: We got started fairly late compared to some of the other groups. We actually started around April 3 and didn't really get going until about April 13. When we started doing our first set of deliveries, I was sick. I had COVID. I really wanted to do my part, although I couldn't physically do anything. We were supported by Crown Heights Mutual Aid for a little while before we were self-sufficient. As we were growing, we didn't have money. We were just starting our fundraising. Crown Heights Mutual Aid was getting requests from Brownsville and from Ocean Hill that they couldn't handle. However, their fundraising was very successful. So they gave us about $10,000 towards all of the residents in Ocean Hill and Brownsville that were on their list.
RS: Have you seen the needs of the community change over time?
KT: Some of our neighbors that are still extremely affected by COVID rely on us every week to be able to feed their families. We've definitely seen a slight decrease in the amount of requests that we're getting. Naturally, people are going back to work. They're working, they're making money again, they're able to buy groceries and feed their families. They're becoming more food secure. We've set up a system so that if the need begins to rise again, we're able to respond faster. Everything is already in place, which is the great thing.
If you take a step back from all of the craziness outside, and all of the tragedy across the globe, you can see some of the beautiful things that have happened.
RS: This all seems really different than your typical nonprofit model, or your typical charity model.
KT: The city has given us little to no resources. And we have created systems in our own communities that operate faster than the city's resources. That is an amazing thing. That is, in my opinion, how our communities should be run. The people that live in the communities should be involved in the allocation of resources for the community. We should be the ones making the decisions about the resources the community gets. Our communities can take care of themselves. By the time the city gets to us, we're at the end of the first uptick of COVID. And now it's coming around to the second uptick, and we still don't have any support.
I've been able to hire over two dozen people from my community and give them jobs. It's feeding back into the community. There's such a great silver lining that is coming from COVID-19 that I don't think many people realize. And if you take a step back from all of the craziness outside, and all of the tragedy across the globe, you can see some of the beautiful things that have happened. The relationships that have formed, the bonds that have formed, the way that we are responding differently than we have ever done before.
RS: How are you staying motivated?
KT: Honestly, I just I have a spirit of: I want to make sure that the people are securing what they need. If you have a need, I think there's enough in this world for us all to have our needs filled. And if I can be a part of changing that in just the smallest way, that's what drives me. I like to see people happy; I love to see smiling faces. There's so much joy that can be had and people want to help and they want to be there. 
Visit the Ocean Hill Brownsville Mutual Aid website 
Donate to Ocean Hill Brownsville Mutual Aid 
Ways to Get Involved + Calls to Action 
In solidarity,
Mutual Aid NYC