Discover more from Mutual Aid NYC Newsletter
A newsletter about Mutual Aid efforts around New York City, brought to you by mutualaid.nyc, going out to Mutual Aid NYC volunteers.
Over 3,000 subscribers
We share power, we do not hoard it.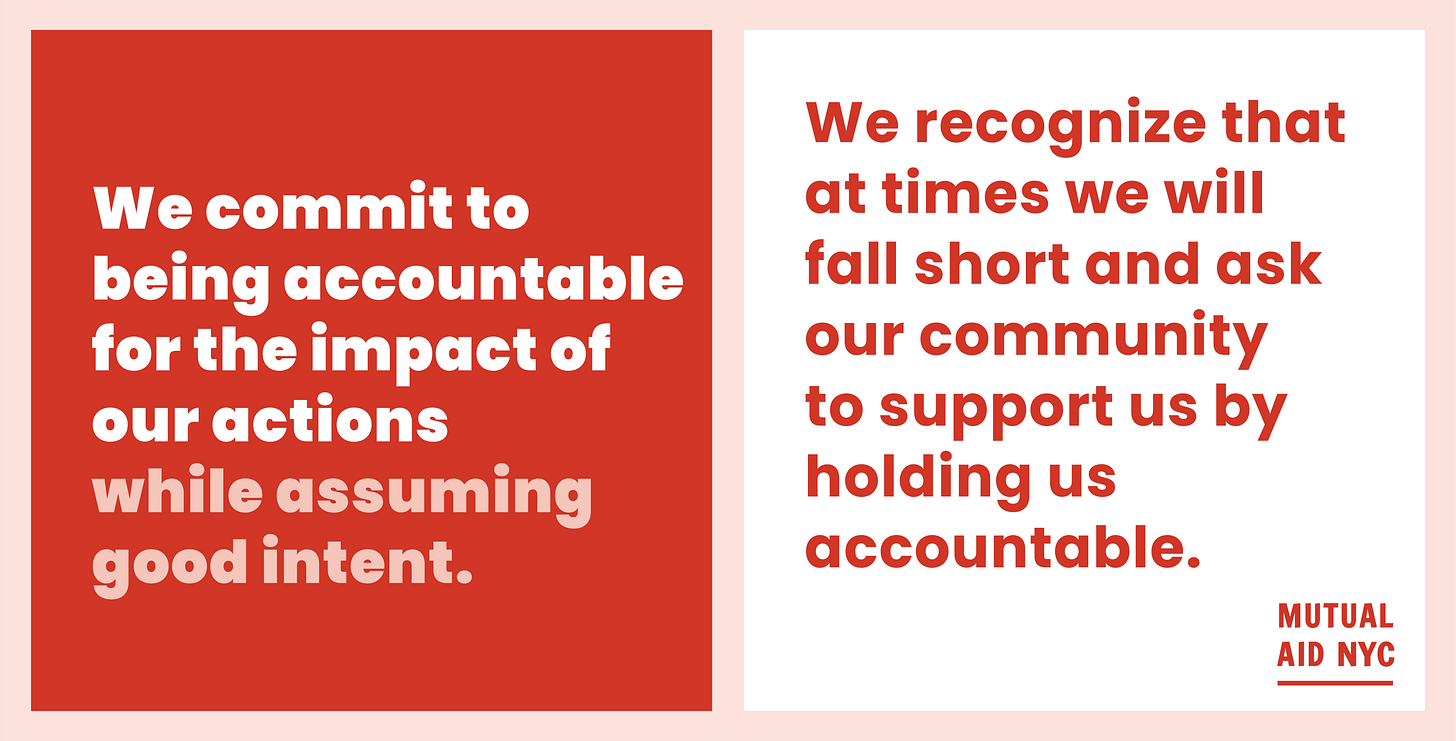 Our work at Mutual Aid NYC is guided by a set of principles. Today, we share them with you — and ask you to help us stay true to these values. 
Our responsibility as a community is to ensure that all people have what they need to thrive and we believe that all people have something to contribute. Mutual aid means long-term solidarity with our community, not a momentary act of charity.
We share power, we do not hoard it. We value all voices and are transparent and collaborative in how we relate to each other, make decisions, and operate.
We partner, we do not dominate. We amplify and adapt to the needs of communities. Our work is based on what the folks doing mutual aid need right now.
We build in public. We use open-source tools and methods when possible, and aim to de-weaponize and democratize technology through our work. We try to utilize and contribute to existing open source projects and open data resources.
We do not share information in ways that we know will harm. We will never share information with law enforcement, especially ICE or the NYPD. 
We are anti-racist. We actively work to undo systemic inequities in ourselves, existing structures, and the new structures we support.
We prioritize people over profit. We recognize the inherent worth of all human beings, no matter their class background or economic output.
We meet people where they are. We recognize that unequal access to information creates systemic barriers. We are committed to providing equal access to resources, tools, and information so that people of all languages, backgrounds, and abilities can make use of and contribute to our work.
We commit to being accountable for the impact of our actions while assuming good intent. We recognize that at times we will fall short and ask our community to support us by holding us accountable.
At Mutual Aid NYC, we acknowledge that mutual aid isn't new. Marginalized communities have relied on mutual aid for centuries, and we seek to honor that legacy. In that spirit, next week's newsletter will explore how communities of color have cultivated mutual aid practices throughout history.      
Want to join the team at Mutual Aid NYC? We are looking for:
UX Designers / Front End Engineers / General IT support / Airtable Expertise

Please fill out this form to help us build our website and expand our technical capacity. 

Hotline Volunteers

To begin training to join our multilingual hotline, sign up using this form.

Translators

To translate resources for established organizations and mutual aid groups, sign up here.

Graphic Designers / Illustrators / Artists 

To join the visual media team, please email contact.alhu@gmail.com with your skills, interests, and availability.

Social Media Experts

To help share information about what mutual aid groups are doing around New York City, complete this form and select  "social media" as the answer to the question, "Do you have any of the following essential skills/expertise needed right now?"

Community Operations Support

Our diverse volunteer network needs folks who have experience building collaboration and communication systems, using tools like Slack, email listservs, Notion, and other common internal collaboration tools with an eye toward accessibility and inclusion. To get involved, email George.

Resource Librarians

To research and add new information to our library of resources available to communities most impacted by COVID-19, or train new volunteers in this task, email resource@mutualaid.nyc.
Share your mutual aid stories
We want to share your stories in this newsletter through brief interviews with interested groups and individuals. We hope that by reading stories about on-the-ground work, community members will learn more about your resources and how to access them.
If you're interested in being interviewed, please email us at manycnewsletter@gmail.com with your phone number and availability. We'll connect you with an interviewer within a week. We can provide confidentiality upon request.
Join us on social media every #MutualAidMonday
Follow Mutual Aid NYC on Instagram, Twitter, and Facebook. We encourage you to DM our accounts to have your content re-posted.
In solidarity,
Mutual Aid NYC (MANYC)
If you have feedback about the newsletter, please email us at manycnewsletter@gmail.com.