Discover more from Mutual Aid NYC Newsletter
A newsletter about Mutual Aid efforts around New York City, brought to you by mutualaid.nyc, going out to Mutual Aid NYC volunteers.
Over 3,000 subscribers
Youth Doing Mutual Aid: NourishNYC
Day after day, NYC youth of color have been marching in the streets with friends and neighbors for Black lives, transforming their social media presence to center social justice with hashtags and creative infographics, while tirelessly organizing COVID-19 relief efforts across NYC. Today, Mutual Aid NYC brings you the story of one of those youths and the founder of NourishNYC, 22-year-old Tania Maree. As the first feature in our series "Youth Doing Mutual Aid," the story of NourishNYC highlights the tenacity and powerful capacity of youth-led mutual aid organizations on the frontlines that continue to radically transform the world.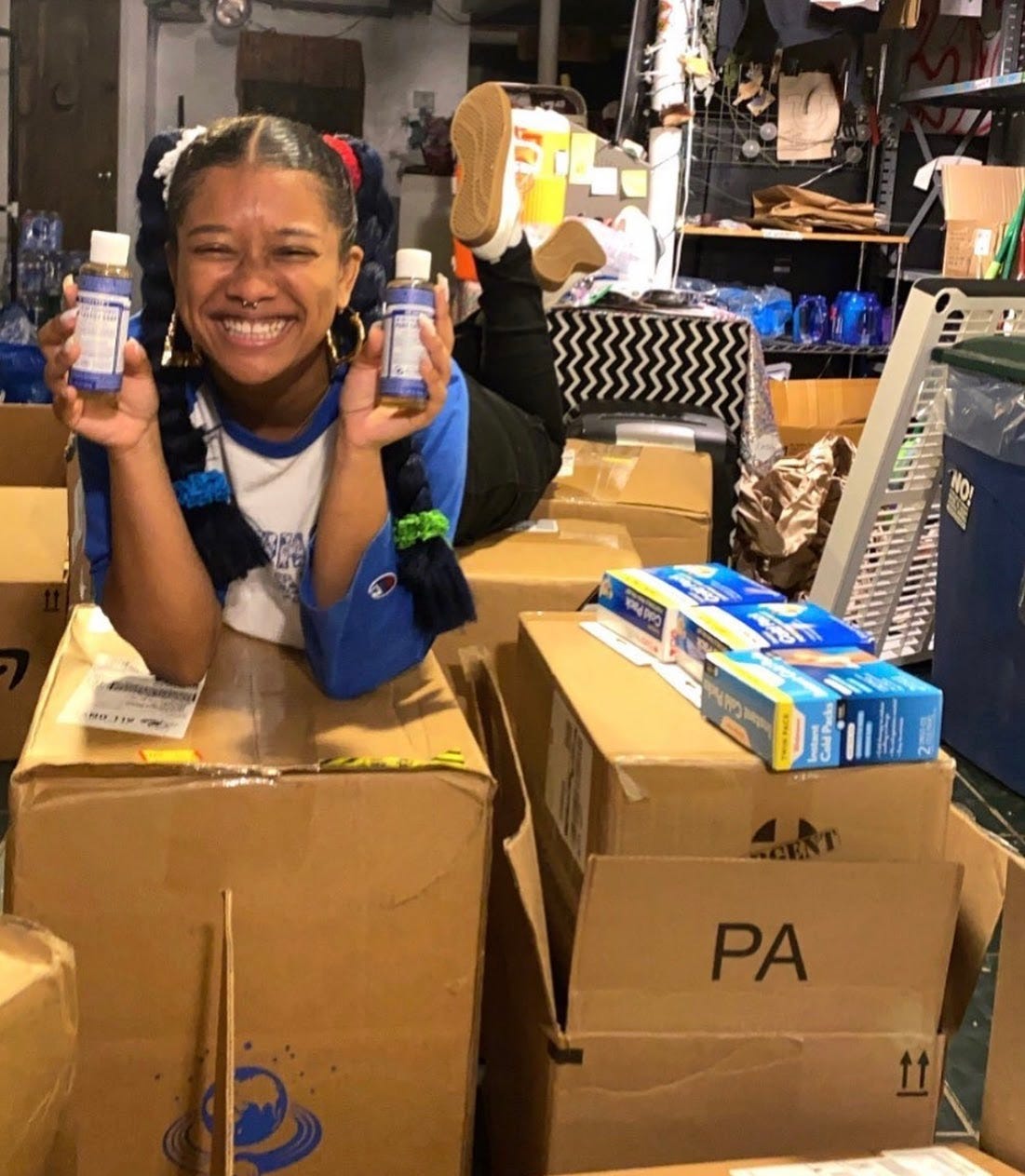 Tania Maree at the NourichNYC depot | photographed by a NourishNYC team member
May 28th—It was on day three of the energized Black Lives Matter protests when Tania Maree decided they would no longer watch protesters march down the street while listening to revolutionary music from their apartment window. Instead, they would march alongside them through Union Square, despite Tania Maree being a severe asthmatic who had recovered in February from what they were sure were COVID-19 symptoms. What they thought would be a calm demonstration turned out to be one where they, along with thousands of protestors, were met by dozens of police officers who barricaded the streets. 
Eager to do more after five hours of protesting and 17 miles of walking, Tania Maree found themself back home where they decided to start an emergency match campaign through Twitter and Instagram to provide snacks and PPE to protestors. They anticipated it would garner about $1,000 maximum, in spite of their connections to affluent networks. But, the next day, they woke up to more than $20,000 in their Venmo account. 
"I texted my best friend and I was like, 'I think I founded an organization …'I was like, 'What will be easy for people to send money to?' Then came NourishNYC. I think the easy name on it tells you what you're doing and where we're doing it." Tania Maree said. 
The following day, Tania Maree participated in a protest at Barclays Center, providing aid to injured activists when they were assaulted by the police with pepper spray. "That made my asthma a lot worse because it got into my lungs … [That] affected my actual capacity to carry things, it's affecting my stamina," Tania Maree revealed.
But they did not let this traumatic incident hold them back.
In just a few days, Tania Maree would put their plans to run their skincare business and take bass guitar lessons on hold to fully operate a mutual aid network that would support various demonstrations from the steps of the Brooklyn Museum to the picnic tables of Bryant Park. 
Sunday through Thursday, NourishNYC serves New Yorkers mainly in lower Manhattan, but will not hesitate to travel anywhere when called to do so. 
Tania Maree's close friends Ashaki and Christine manage finances and fulfill other administrative needs. As depot manager, Omari oversees daily operations by scheduling volunteer shifts, coordinating supply drop-offs and pick-ups, and researching demonstrations in need of support. Reiki and Puma help maintain the depot by managing and organizing supplies.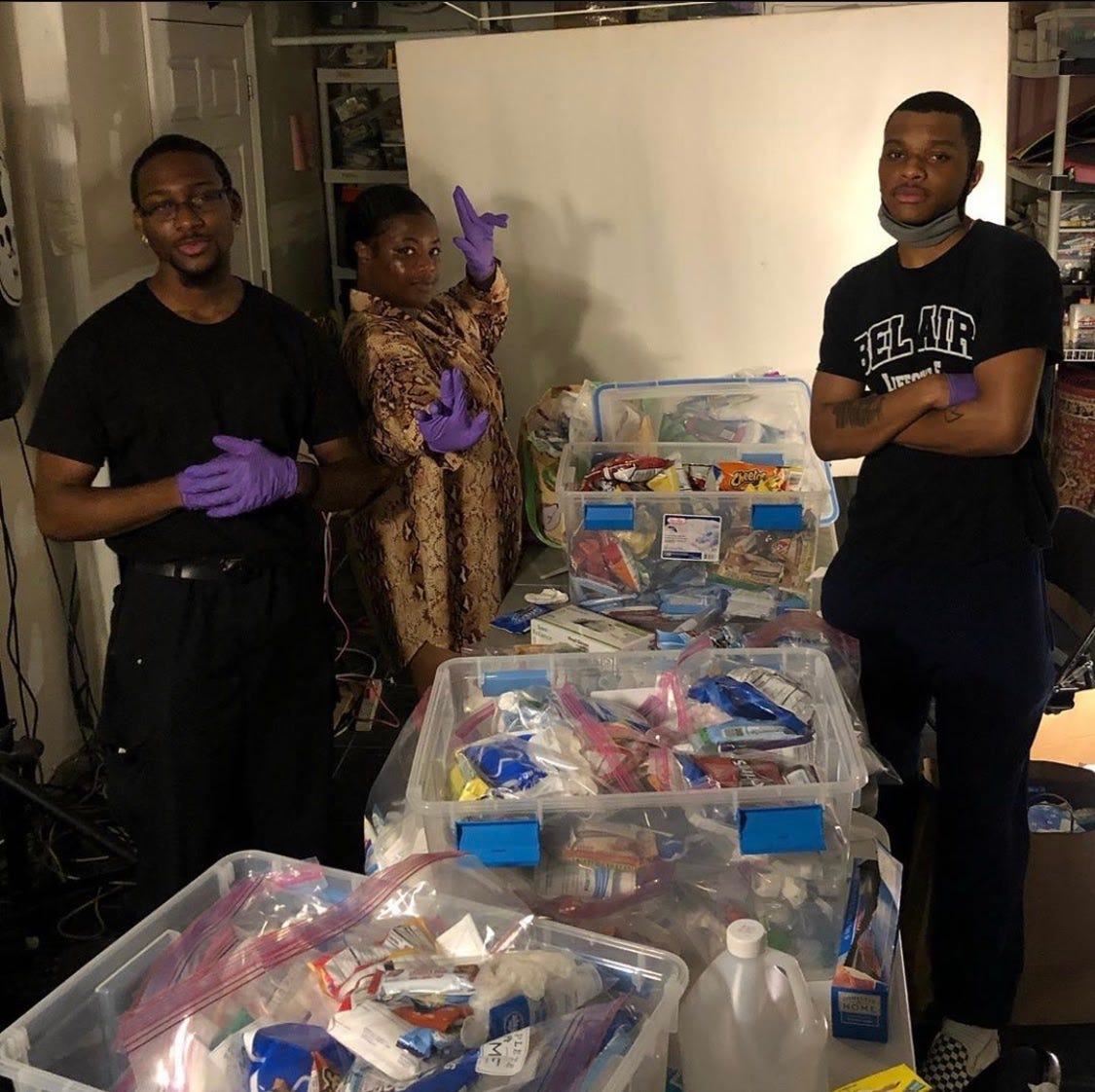 NourishNYC team (from left to right) Reki, Puma, and Omari posed with supply kits | photographed by Tania Maree
Together, Tania Maree and the team make supply kits of gloves, masks, hand sanitizer, water, and snacks. In the past month alone, the team distributed more than 4,000 kits. At the end of the day, the team also distributes "homie packs" to people facing homelessness, primarily in the West Village. When not Zip-Loc'ing and distributing bags, they coordinate ride pick-ups for protestors in need. Tania Maree's innate need to give, coupled with the continued influx of donations, also prompted NourishNYC to set up cash grants for community organizers and protestors.
"Anybody who asks for supplies receives it. That's the rule. If you come to me and you're hungry, I will either give you money or I will teach you in some way. If you need $20 so you can eat or you can do whatever the hell it is: You got to buy some tampons? Here's $20," Tania Maree said. 
This quick-to-act essence of NourishNYC would continue after the organization was tagged multiple times on JusticeForGeorgeNYC's Instagram post calling for community support at City Hall. In response, Tania Maree immediately went to City Hall Park to talk with VocalNY organizers on the ground, where they committed to supplying meals every day for the remainder of the encampment. 
The following day, Tania Maree organized alongside an organizer named Lucy with The Saint Supper Collective; the two immediately bonded over their shared Haitian heritage, enriching Tania Maree's connection to the community. Lucy and other organizers established a food system that "was super-safe, organized, and efficient for people to get meals." Together, they handed out Chipotle burritos to campers and bike protestors who made pit stops at the park, in need of fuel for the remainder of their ride. Over the course of the encampment, and in collaboration with Black-owned restaurants, volunteers, and various food pantries like Rethink Food, NourishNYC distributed more than 7,000 hot meals.
"Just seeing so many people super-passionate and jumping in and being in a community, that was really nice. It was nice because I don't have a huge team. And—I think, especially after my experience at Barclays—I felt safe. And that's not something I feel very often when I'm on the ground. I'm literally 5'2 and I'm a Black person."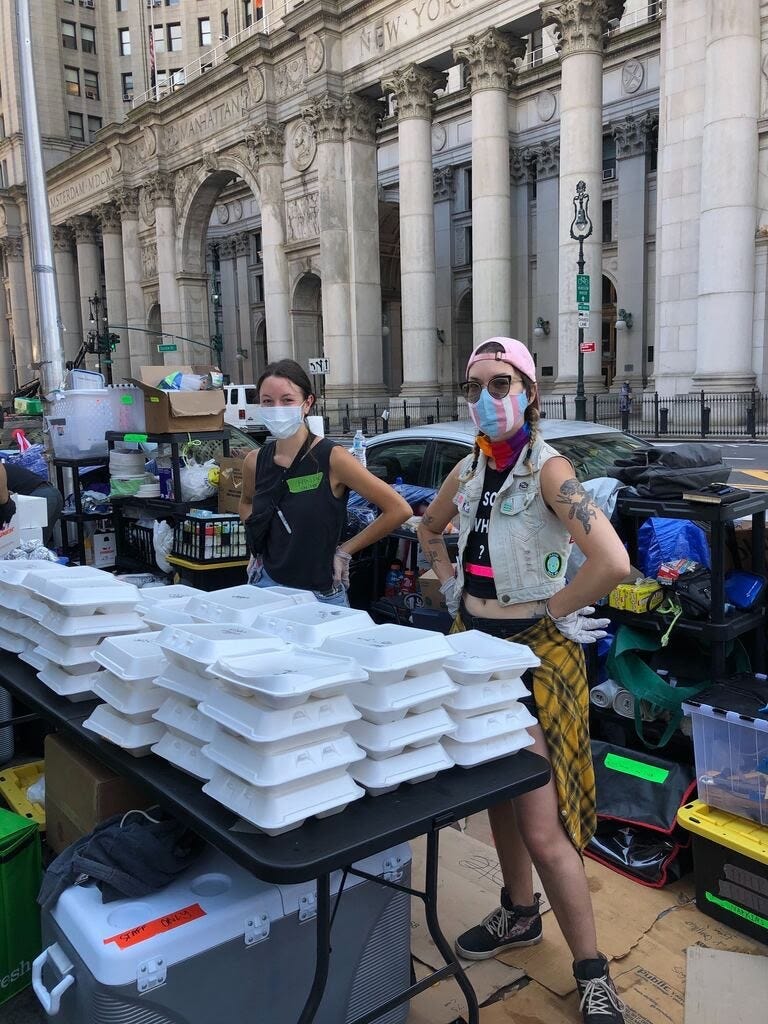 Two NourishNYC and Saint Supper Collective Volunteers distributing hot meals at city hall | photographed by Tania Maree
Doing this work has also enabled Tania Maree to better understand the importance of mutual aid while realizing it stems from what Indigenous and Black communities have always practiced. "That's what the community is: to take care of each other. It's a mutual effort, like when someone doesn't have something that you have to share. And I believe in karma and that karmic energy will return to you. Fuck this idea of scarcity, like the resources aren't fucking scarce. They are there and there are people willing to give it, it's just about how you tap into it," Tania Maree said.
While this work has connected Tania Maree to the community more deeply and brought forth moments of internal growth, it has also brought about great challenges. "I think the "giving" thing is something I've been trying to figure out and navigate on a personal level. Putting so much into something that I care about [...] but realizing that I don't necessarily give that energy to myself in all the ways that I should," Tania Maree said. 
"I'm often in a position where people assume that this is an organization with a pre-existing structure and that's simply not the case. It's day by day, realizing, 'Okay, we don't like how this goes, so we're going to do this instead.' Okay, this need is not needed anymore, so how do we meet the need we are now identifying? How am I going to outreach to the community and interact with people who identify what needs are?" 
While navigating this is still a work in progress, Tania Maree has found ways to establish balance by setting aside time to volunteer at Mil Mundos Books. "It's important to me that I honor the commitment I made to that team by continuing to pull some weight-maintaining that bookstore and making sure that it's something that lives on. It's an active anti-gentrification project, so that's as much a form of protesting as Nourish is, and they go hand in hand. So I've decided I'm taking Fridays through Sundays not completely off but mostly [off]. Fridays and Saturdays are my days."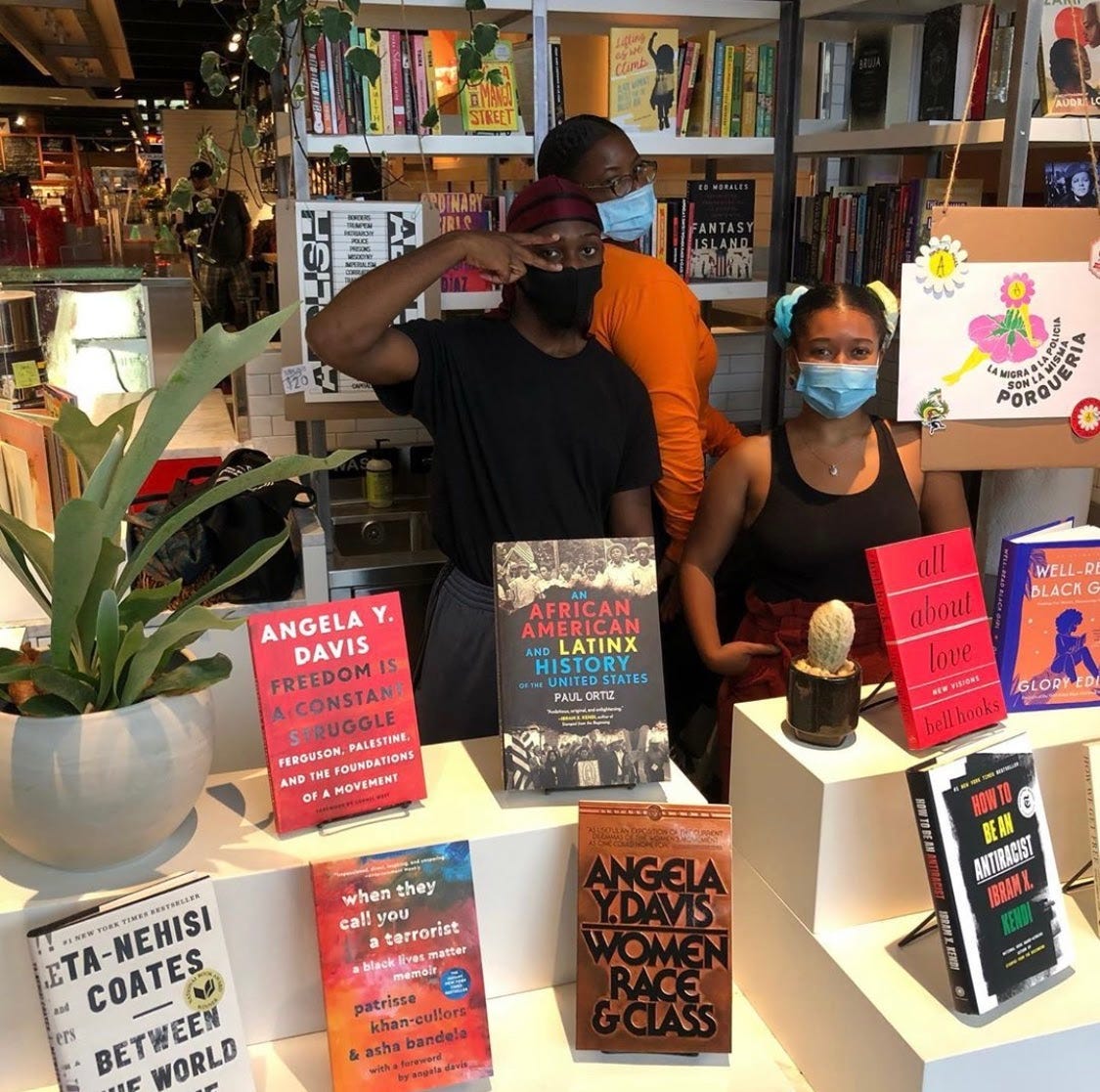 Tania Maree with Puma and Reiki volunteering at Mil Mundos Bookstore for Essex Market | photo via

NourishNY

C
Doing so has alleviated stress from the early jam-packed days of Nourish where they worked 20+ hour shifts every day and slept 2-3 hours per night. 
To fully unwind from running social media and operating various outreach chat channels they set aside time for dinner dates with their friends, socially-distanced style. Recently, they felt joy and ease while eating birria burritos in the rain with their friend Vivian, another organizer with the Saint Supper Collective. 
The future of NourishNYC is bright. 
The organization plans to continue working with The Saint Supper Collective in a way that "is sustainable for everybody's mental, emotional, and physical health," while collaborating with other mutual aid groups. They also plan on securing partnerships for mental health and wellness resources. "I feel like [those resources] deserve a dedicated section on the website because not everyone is necessarily trying to engage with everything else. Black people deserve to just engage in their wellness without having to further engage in the violence of what's going on in order to get help. I feel like being Black in and of itself and continuing to choose to live every day is a form of protest. So I've made a $20,000 commitment for that," Tania Maree said. 
What started as a young person putting in a few dollars towards helping neighbors safely protest and eat a meal has blossomed into a personal mutual aid collective of passionate youth who work tirelessly to serve the NYC community, shifting our culture towards one that practices care and mutual support. 
---
Ways to Get Involved + Calls to Action